Quality Assurance
To improve and maintain the quality of our products for eighteen years in the world of plating, we always prioritize customer satisfaction by checking each of our plating results.
We have two labs, to check and make sure the products we produce meet the standards owned by the customer. We have various checking tools such as:
Acetic Acid - Salt Spray Test
Corrodkote test
S.T.E.P Test
Heat ShockThermal Cycle
Thickness Measurement
Adhesion Testing
Drop test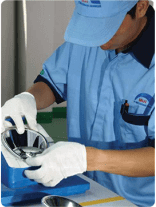 We will guarantee you and provide full support for all the products that we produce in accordance with the drawing specifications you send.
Our Reliability Lab Facilities
We believe testing is essential to a quality product.
We do micro sectioning as a quality test and to assure our customers that we meet with their drawing specifications.